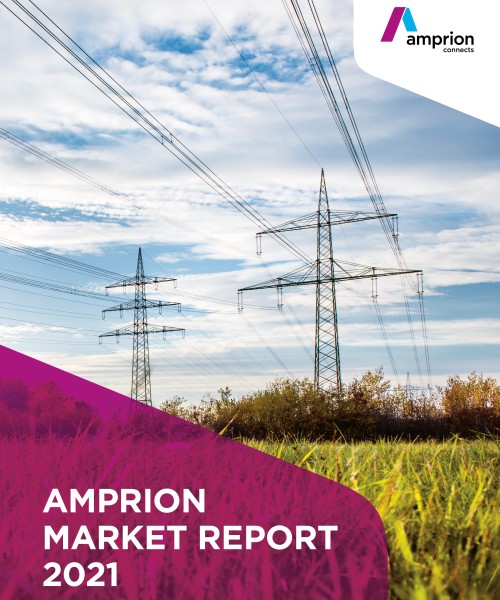 The Covid-19 pandemic has made for an exceptional year in Europe's electricity market. Despite this, the trend towards market integration continues. Germany is once again importing more electricity than in the years before.
Amprion's Market Report 2021 illuminates how the European power market is developing and the role of Amprion's transmission grid as a hub for European electricity transmission. This latest report clearly shows the impact of the Covid-19 pandemic during last year. Electricity consumption in Germany, for example, fell to 544 TWh – the lowest level since 1999 – as a result of the economic downturn. The share of renewables in the energy mix also reached a new high of 49 per cent in Germany, with the progressive expansion of renewable energies and their prioritized access to the market playing a decisive role. As a result of the simultaneous drop in overall consumption, this meant they also provided a higher proportion of the total power supply compared with previous years.

Need for more flexibility in the electricity market and grid
Amprion CEO Dr Hans-Jürgen Brick sums up the findings as follows: "2020 posed a situation that can scarcely be compared to other years. Despite this, the fundamental issues remain clear: we need more flexibility in the grid; Germany will import more power; and we need to keep an eye on ensuring security of supply."
Last year, Germany recorded its highest electricity imports since 2015. In day-ahead trading, the import volume reached 31 TWh, an increase of 37 per cent compared to the previous year. Net electricity exports amounted to 22 TWh, down 39 per cent year-on-year. Germany exported mainly in the windy winter months, while there was a demand for imports in the summer months when there was little wind.
Under conditions of low consumption and a high share of renewables, the European electricity market operated particularly efficiently: for more than half of the year, prices in Central Western Europe reached equal levels. "This convergence meant that the price of electricity developed freely across the market area. Consumers benefit from this as well," says Brick.
Another circumstance was highlighted in 2020: given its central location in Europe, Amprion's grid forms an integral part of the European electricity market. The trend towards increasing market integration is creating new challenges for Amprion. "Going forward, it remains critical that we continue to upgrade and expand our grid to prepare it for the evolving transformation of the energy system. However, we need to move away from an isolated view towards an overall view of multiple infrastructures: examples include the international connection of offshore generation or the use of power-to-gas plants," Brick explains.

Contact
If you have any questions, please do not hesitate to contact us at:
ten.noirpma@tropeRtekraM