The umbrella term "cables" refers to a variety of technologies designed for a variety of tasks. Which technology is used depends on the voltage level, the transmission capacity and transmission distance, as well as the question of whether the power is to be transmitted cross-country or under the sea. In order to understand what the technology behind underground cables is capable of, it's important to take a closer look at the technical details of the matter.

All around the globe, high-voltage and extra-high-voltage transmission make almost exclusive use of overhead lines. However, wherever power is to be supplied to islands, offshore wind farms are to be connected with the mainland or the grids of two countries are to be connected to one another across the sea, the only way to transport this electricity is by means of cables laid on the seabed. This was the reason behind the development of the very first high-voltage and extra high-voltage power cables for use under the sea. Transmission system operators (TSOs) have been gaining more and more experience in this field ever since the 1950s. Depending on how long a power connection is, such subsea cables are planned either as AC or DC cables.
Subsea cables, also known as submarine cables, are laid with the aid of special cable-laying ships. These ships are loaded with very long lengths of cable, which they then transport to where they are to be laid at sea. The cables are then installed on the seabed. These ships can lay cables that are many miles long. Consequently, very few cable joints are required.

Standard technology for low-voltage lines
When new buildings, housing estates or industrial/trading estates are connected up to the power grid or telephone network, the standard procedure in many places around the world has long since been to bury the cables underground. Such underground cabling is standard technology in the local distribution networks operating at the 230/400 V low-voltage level and the medium-voltage level between 10 and 30 kilovolts.
In the urban environment in particular, the majority of power lines that supply small-scale industrial plants and households have for many years been laid underground. The power levels they transmit are relatively low, so they can be very compact. The higher the power level to be transmitted and the higher the voltage applied, the more technically complex underground cables and their laying become. That's why they account for a much smaller proportion of lines in the 110 kV distribution networks that distribute electricity generated by regional power producers to their local region. As a rule, underground cabling is reserved for inner-city sections. On land, overhead lines are standard at this voltage level owing to their greater cost-effectiveness.
A first in the field of extra-high voltage
Amprion's transmission grid carries enormous amounts of energy across long distances at voltages of 220 and 380 kV. It delivers power to entire cities and conurbations. To do this, the grid makes almost exclusive use of overhead lines. We have been using this technology for almost 100 years, and it's both reliable and cost-effective. This, however, doesn't apply to underground cable systems at this voltage level. They are high-tech products whose integration into the transmission grid has not yet been fully tested. What's more, underground cables used for high transmission capacities – as opposed to distribution networks – require much more space and cannot be laid anywhere near as compactly as at low voltage levels.
Number of joints required for cross-country cabling
Laying underground cables on land is laborious and time-consuming. Trucks transport the cables on drums from the factory to the construction site. Since the trucks have to use public roadways and cross over and under bridges, these cable drums are restricted with regard to their size and weight. One such drum is capable of carrying an underground cable of up to 1,300 metres in length. As a result, a cable joint has to be fitted roughly every kilometre, meaning many more of them have to be installed over a given distance compared with subsea cables.
Joints – the Achilles heel of underground cable routes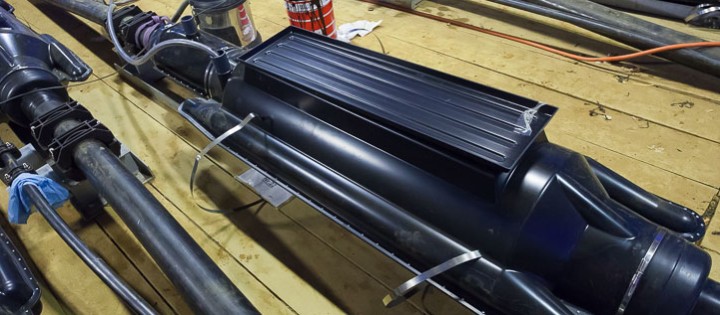 Amprion is currently implementing underground cabling projects designed to transmit electrical energy over land. We are integrating this new technology into our transmission grid as part of a pilot application – a quite formidable challenge. That's because our grid is a complex electrical system in which a very large number of components – such as overhead lines, transformers and switchgear – have to function in perfect harmony. One reason for the high level of complexity is the structure of our network. Our experts talk about it being "close-mesh". Every network node, such as a substation, is connected to several more nodes by overhead lines. The high level of meshing and the use of tried, tested and dependable technologies form the foundation for the high degree of reliability offered by our transmission grid.
We will be expanding this system in future by adding further cable sections. Depending on the specific power transmission role a new link is to fulfil, we will be using either DC or AC voltage. These two technologies differ from the point of view of their physics, particularly in respect of their "capacitance". It is the crucial factor in determining the feasible length of an underground cable link from the point of view of the system.