BBPlG Project No. 30 | Oberzier – German-Belgian border
Amprion and the Belgian transmission system operator Elia are together planning the construction of a new, roughly 90-kilometre-long power link between Germany and Belgium. This project is known as the "Aachen Liège Electricity Grid Overlay" – or ALEGrO for short. ALEGrO is to be capable of carrying around 1,000 megawatts (MW) of power. The power line will use high-voltage direct-current (HVDC) transmission technology and be installed as an underground cable.
The completion of the ALEGrO project is still on schedule. The commissioning of ALEGrO is scheduled to take place in October, followed by the commercial operation mid of November. The first day of the commercial operation will be announced at a later date.
Necessity
In order for the amount of trade in electricity within Europe to grow, the grid must grow as well. With ALEGrO, we are creating the first direct electricity link between Germany and Belgium and providing urgently needed grid capacities for cross-border electricity flows. At the same time, ALEGrO will strengthen the security of supply in the Aachen-Cologne region.
This project is part of the Trans-European Networks for Energy (TEN-E). The European Commission is supporting the project with funds from the TEN-E programme. The project has also been included in the European Union's list of "PCI projects" – as a "project of common interest" urgently in need of implementation. Germany's legislators have also recognised this need and added the project to the Federal Requirements Plan Act (BBPlG) as Project No. 30.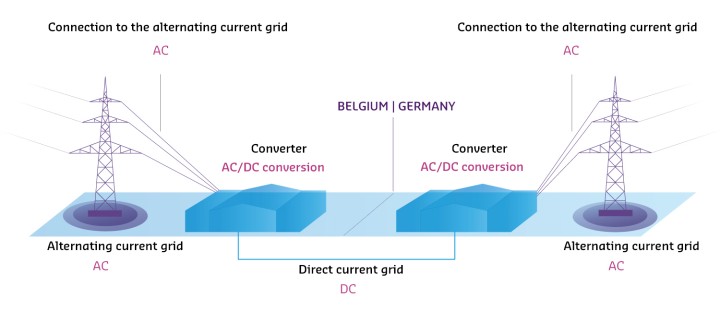 Technology and route
The HVDC link requires a converter station at each end of the line to convert the alternating current to direct current and vice versa. The link is being planned as an underground cable route between the existing 380-kilovolt stations located in Oberzier in Germany (Amprion) and Lixhe in Belgium (Elia) and it will have a total length of some 90 kilometres. The German section will account for around 41 kilometres depending on the final route.
The underground DC cable of ALEGrO will be connected to the German and Belgian AC grids by means of two converter stations – one at either end.