Amprion publishes second Sustainability Report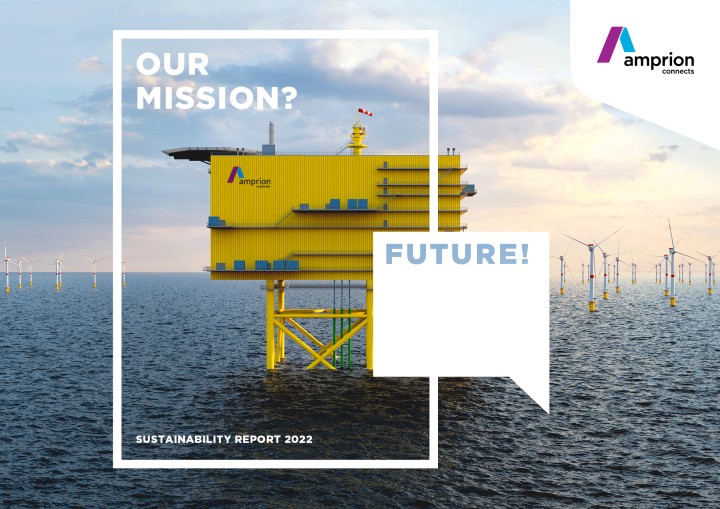 Transmission system operator Amprion has gone a step further in the implementation of its sustainability strategy with the publication of the second Sustainability Report. The focus of the 2022 reporting year is on Amprion's voluntary commitment to gradually reduce its own carbon emissions by 2032. Considerable attention is also devoted to the successful issue of the first Green Bond as well as to the report's preparation in accordance with the international standards of the Global Reporting Initiative (GRI).
The transformation to a climate-neutral energy system in Germany and Europe will be the major challenge for society in the coming years. By expanding the grid, the transmission system operator Amprion is contributing to building a climate-neutral, safe and efficient energy system. The consistent implementation of Amprion's sustainability strategy supports the company's efforts to achieve climate-neutral, sustainable management in-house.
Reduced emissions are a central strategic element
Amprion's sustainability activities are focused on the continued development of its internal climate strategy. Having already adopted CO2 reduction paths for emissions from its own sources (scope 1) and from purchased energy (scope 2) in 2022, the company has taken the next step this year by also setting a reduction target for emissions in the upstream value chain (scope 3) by 2032. "Sustainability is central to our strategic direction – a common thread running through every aspect of our business activities. That is why we set ourselves ambitious objectives for reducing our own carbon emissions. We have made important progress in this regard both last year and this", said Dr Hans-Jürgen Brick, Amprion's Chief Executive Officer.
Green finance and ESG ratings
Investors, too, are increasingly demanding this kind of reduction target. "The capital market evidently sees green as the new normal", commented Peter Rüth, Chief Financial Officer of Amprion. "We issued the first Green Bond on the capital market very successfully in 2022 under our Green Finance Framework and were simultaneously rewarded with outstanding results for our first ESG ratings, ranking fourth out of 300 companies worldwide in the utilities sector. Along with an internationally competitive regulatory framework, the implementation of our sustainability strategy is an important prerequisite when it comes to raising the necessary funds for investments in grid expansion on the capital market."
Five central fields of action for efficiency and transparency
The Amprion sustainability strategy is divided into five fields of action: environment, secure power system, employees, corporate governance and society & customers. By changing the reporting standard from the German Sustainability Code (DNK) to the Global Reporting Initiative (GRI), Amprion is now taking the next step towards European statutory reporting requirements. Amprion's future non-financial reporting will be aligned with the legal requirements of the Corporate Sustainability Reporting Directive (CSRD) and the related European Sustainability Reporting Standards (ESRS).
Please contact us if you have any questions