Grid expansion at Amprion is making progress. Right across our grid area, construction projects are moving along, power line sections are being completed and plants are going online. All this so that the transmission grid can transport more and more electricity from renewables to the consumption centres.
Amprion's grid expansion work is going through the gears. After lots of intensive planning, the entire grid area is now a hive of activity, with construc­tion workers excavating, pouring concrete and bolting parts together everywhere you look. Lines and substations are being upgraded, cable trenches dug, new pylons erected. Along the "Rheinschiene" west of Cologne or in Aachen, in the Mannheim, Augsburg and Osnabrück regions and elsewhere – some 380 subprojects are underway. And Amprion has already completed more than 350 kilometres of lines.
"Our power lines are the lifelines of the national economy," explains Dr Hans-Jürgen Brick, Commercial Manager at Amprion.
According to the will of the legislators, they are to carry an ever-increasing volume of electricity, primarily from wind farms and photovoltaic (PV) installations, and transmit it to consumption centres in western and southern Germany. While the share of electricity generated from renewables in Germany today is just under 40 per cent, it is expected to rise to 65 per cent by 2030 and as much as 80 per cent by 2050. "To achieve this, we have to restructure the energy system," says Dr Klaus Kleinekorte, Managing Director and Chief Technical Officer at Amprion. "Grid expansion plays a key role in this – and we're making visible progress with it. With all of the challenges that still lie ahead." This is illustrated by the portraits of important projects depicted on the following pages.
»The first pylon is up«
By expanding the "Rheinschiene", Amprion is upgrading one of the main arteries of western Germany's electricity grid.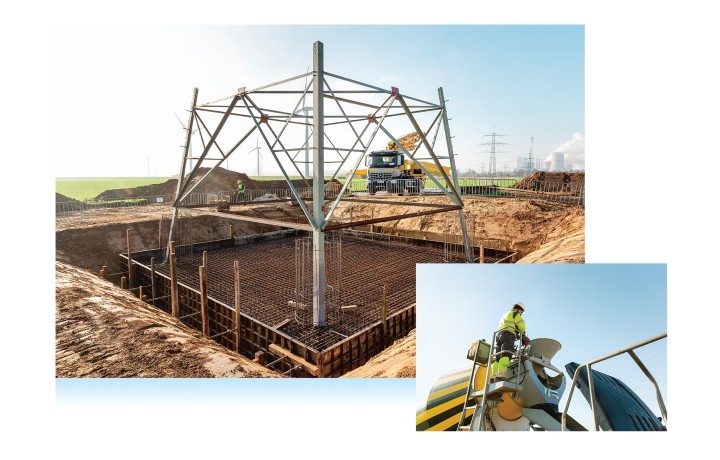 The autumn sun is smiling this November day in 2018. In a field located east of Rommerskirchen, near Cologne, a truck-mounted crane is lifting the lower section of an electricity pylon onto the concrete slab in the ground. Thomas Hofmann, project manager at Amprion, has been working towards this moment since 2013. He's negotiated with landowners along the then still-planned power line route, consulted with experts about locations where the route crosses motorways, and commissioned construction companies. And now the time has come: "The first pylon is almost up," says Hofmann, visibly pleased.
It is the first of 29 new pylons that Hofmann will be erecting between Rommerskirchen and Gohrpunkt, ten kilometres to the north. This section belongs to the "Rheinschiene", one of the main arteries of western Germany's electricity grid. The Energy Grid Expansion Act (EnLAG) of 2009 stipulates that the lines between Osterath, near Düsseldorf, and Weißenthurm, near Koblenz, be upgraded. These new lines will be operated at a voltage level of 380 kilovolts (kV) and their main purpose is to transmit more wind power from the north to the consumption centres in the south.
South of Rommerskirchen, Hofmann's colleague Hermann Schneider is in charge of the construction work. His people are erecting 115 new pylons over a stretch of 38 kilometres, replacing mopre than 200 old pylons. In total, Amprion is responsible for expanding and constructing some 2,000 kilometres of power line, of which 350 kilometres have already been completed. Over the next decade, Amprion will be investing € 9.3 billion in implementation of the outstanding projects. "The wave is now picking up – and we're starting to ride it," says line construction engineer Schneider.
Speed digging
Amprion is utilising modern tunnelling technology in the construction of the German-Belgian power bridge "ALEGRO".
Car after car flash past on Germany's A44 motorway. Rainer Millinghaus has to shout to explain to the visitors to Amprion's construction site how the first tunnel for the cable of the "ALEGrO" underground DC link is being dug there. "We're using a special drill here in Aachen," says the subproject manager, pointing to a cigar-shaped machine stored next door that measures five metres long and has a drill head with a diameter of more than two metres. "It works on the same principle as a coffee grinder," he explains. "First of all it crushes the rock, then it mixes it with water to create a slurry, which is transported away by pipes."
The construction site is located on an industrial estate in the south of Aachen. On this day in October 2018, Amprion has invited guests from the worlds of politics and business to witness the ground-breaking ceremony for this grid expansion project. From 2020, this underground cable is to be the first link to directly connect the power grids of Germany and Belgium – a milestone for Europe's internal electricity market. In his welcoming address, North Rhine-Westphalia's Prime Minister Armin Laschet emphasises the importance of ALEGrO as a German-Belgian power bridge – and praises the "rapid pace of the planning and approval procedures".
And Rainer Millinghaus has played his part in this, too. Amprion hired the civil engineer in 2014 to break the ground for yet more underground cable projects. "In the meantime, our department has grown considerably", he says. "Amprion is capable of handling not only overhead lines, but underground cables, too."
Day trip to Amprion
Amprion builds a new substation in Lambsheim – and the locals are extremely interested.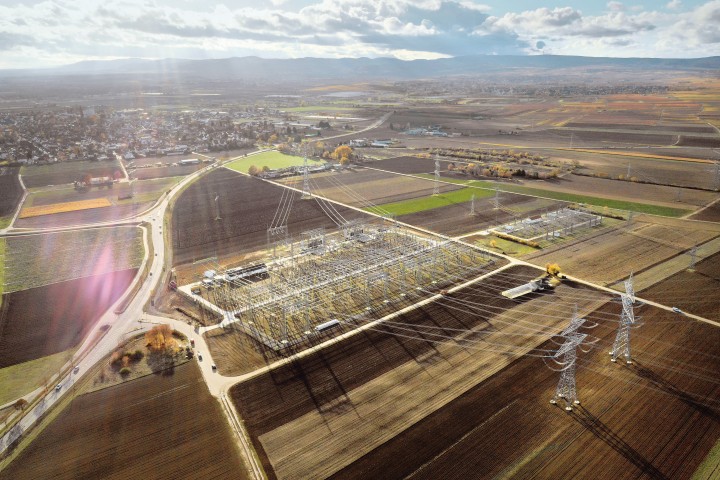 Why not visit a transformer substation? That's the question more than 400 people asked themselves one Saturday in May 2018 before turning up to an "Open Day" held by Amprion at its new substation in Lambsheim in Germany's Palatinate region. Not just because there was a bouncy castle for the kids, but also because employees like Christian Nöldemann were offering guided tours. "400 visitors – you don't often see that," says the project manager for switchgear construction looking back. What interested them most was how the new substation actually works.
This is an area in which Nöldemann is truly in his element. He was a member of the team that planned the 380-kV substation, obtained the necessary permits and managed the 18-month construction phase. This substation is now an additional important hub in the power grid, enhancing the security of supply in the region. "And it enables us to transmit wind power over the transmission grid." Background information: the state government of Rhineland-Palatinate aims to satisfy its entire electricity needs from renewables by 2030.
Nöldemann had already taken notice of the high level of interest in Amprion's activities by the locals in the spring of 2018 when a heavy-duty articulated truck with low-bed trailer transported a new transformer from Lambsheim railway station to the substation in the middle of the night. Residents lined the route and the local mayor served sandwiches. At this time, construction and repair work on the rail network had already delayed delivery of the transformer by nine months. "But we rearranged our plans accordingly," says Christian Nöldemann. In late summer 2018, the substation went online on schedule.
Maintaining the tension!
Amprion connects the first synchronous compensator in the new transformer substation in Oberottmarshausen to enable it to operate the power grid stably and safely.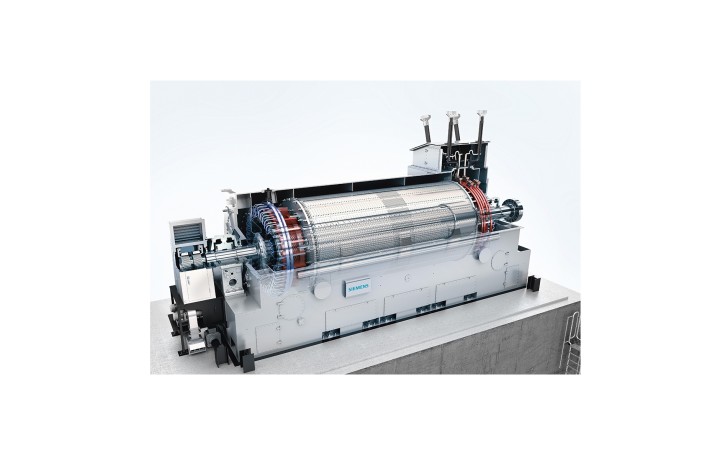 It is 13 metres long, 4.60 metres wide and 5.69 metres high, weighs 268 tonnes and is what experts call a "synchronous compensator" (aka "rotary phase shifter"). This piece of electrical wizardry has been in service at the 380-kV transformer substation in Oberottmarshausen, near Augsburg, since September 2018. "It ensures that we can keep our transmission grid operating stably and safely even as more and more conventional power plants are taken offline in the wake of the energy transition," says Stephan Wittner, subproject manager at Amprion. The generators of these power plants have until now helped keep the voltage level in the transmission grid constant. Now, innovative systems such as the synchronous compensator need to step in to stabilise the grid in the region of Bavarian Swabia.
They are being installed at important nodes of the electricity grid, such as the substation in Oberottmarshausen. This substation connects Amprion's transmission grid to the 110-kV distribution network of the regional grid operator LEW Verteilnetz GmbH (LVN). Built in 1962, it is the largest of its kind in the region. Since 2015, it has been undergoing modernisation work, because the EHV grid in Bavarian Swabia is to be converted to a 380-kV system over the next few years. "Converting a plant while it is up and running is in itself a great challenge," says overall project manager Jürgen Schuder. "But we did it – thanks to a great team effort." Amprion's employees and those of the companies who conducted the work identified with the project one hundred per cent.
More energy for Baden-Württemberg
On what is currently the largest construction site between Reutlingen and Herbertingen, Amprion is using more steel than was needed to build the Eiffel Tower in Paris.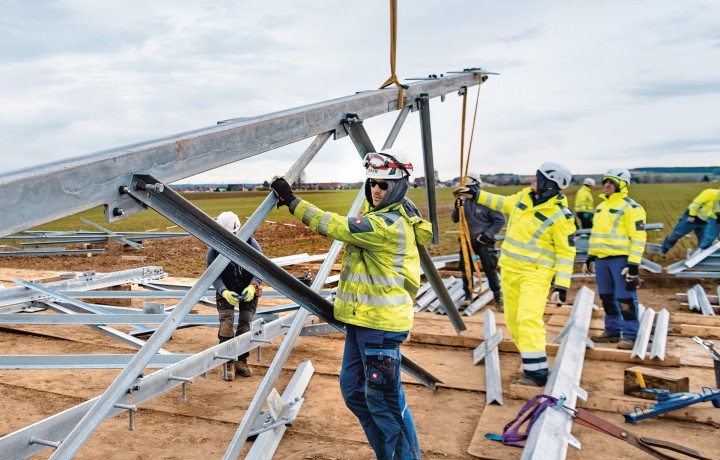 The scale of the project is enormous: by 2020, Amprion will have used more than 11,000 tonnes of steel on its power line construction site between Reutlingen and Herbertingen in Baden-Württemberg. By way of comparison: the Eiffel Tower in Paris features 7,300 tonnes of steel. "We are also using thousands of tonnes of concrete on foundations and around 1,500 kilometres of aluminium conductor cable," calculates project manager Klaus Ludwig. These quantities are needed to erect 181 new electricity pylons along the 61-kilometre route and to install more capable and efficient lines.
On this particular day in January 2019, fitters are busy assembling the first pylon sections in a field near Zwiefalten, ready to position one on top of the other later. Elsewhere, more fitters are dismantling 216 older pylons. Many belong to the very first supraregional high-voltage line that was built between 1924 and 1928 to connect the power stations in the Rhenish coal-mining area with the pumped storage power plants in the Alps. "Today, it's all about exchanging wind and solar power between north and south via the grid," says Ludwig.
Four pylons dating from 1928 are to be preserved as industrial monuments at the request of the State Office for the Preservation of Monuments, Historic Buildings and Cultural Heritage to commemorate the historical significance of this section of power line and a pioneering achievement in Germany's transmission grid, which Amprion still sees as an incentive for its own activities today. "We, too," says project manager Ludwig, "are pushing ahead with the restructuring of the power system to ensure that the energy transition is a great success."
---
Text: Volker Göttsche Fotos: Marcus Pietrek, Günther Bayerl